When extreme weather is an issue in your area, you need a roofing contractor in Texas that you can trust to come quickly and deal with the problem efficiently. Here at Starr Roofing & Gutters, we have years of experience working with homes in the area that are susceptible to storm damage, and we vow to always come quickly when you need us.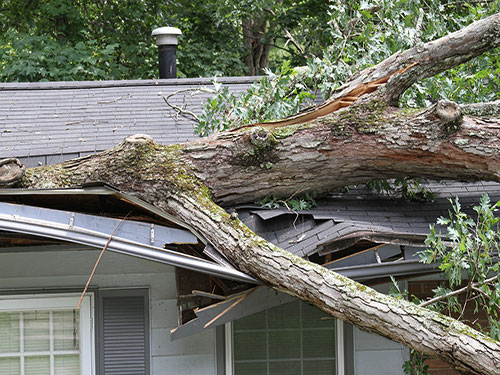 We also know that roof replacement in Texas may not be in your budget, particularly when you don't see the problem coming. We do our best to walk you through the process and ensure that you know exactly what your insurance will pay for, and how to choose the right products for your budget.
Common Problems With Roofing After Storms
Depending on which area you live in and the type of storms you deal with, you may have several problems with your roofing.
Wind – may curl and lift shingles as it breaks the bonding seal, which leaves your roof vulnerable to rain driven by wind
Storms – may remove and tear through shingles, leaving your underlayment exposed to additional elements
Hail – may pockmark or dent your shingles and dislodge the protective granules
If you have serious roof damage after a storm, we are happy to offer roof repair in Texas to ensure that your home is protected. If your roof is beyond repair from extensive storm damage and needs to be replaced, we can help you choose the right products to replace it.
We'll send a roofer to your home to determine if you need a new roof or if your current one can be replaced, and walk you through the process of contacting your insurance company to help you determine how much you will have to pay. We are with you every step of the way.
Choose Starr Roofing & Gutters As Your Preferred Roofing Company
Whether you have extensive storm damage or just want your roof inspected to ensure that it is functioning properly, give us a call today to schedule a consultation at (512) 736-6539.