Commercial Roof Replacement, Roof Coatings & More
STARR Roofing & Gutters has been installing and maintaining roofing systems for Texas businesses for years. We would be proud to show you why we're the roofing contractor to trust for all of your commercial roofing needs. Give us a call today!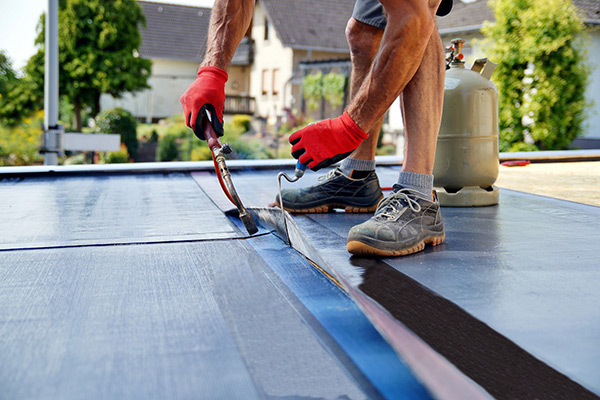 Types of Commercial Roofing
Explore the different types of roofing that STARR can install on your commercial property:
Built-up roofing (BUR)
EPDM single-ply membrane
Metal roofing
Modified bitumen
PVC/TPO single-ply membrane
We also specialize in installing roof coatings. Learn more about all these options below.
BUILT-UP ROOFING (BUR)
BUR (built-up roofing) is the most common material used on low-slope commercial roofs. It is composed of alternating layers of reinforcing fabric and bitumen (asphalt) and is finished with a top layer of either stone or gravel to act as ballast. STARR Roofing has extensive experience in the repair and maintenance of this roofing system.
EPDM SINGLE-PLY MEMBRANE
Often referred to as rubber roofing, EPDM (ethylene propylene diene monomer) membrane is a rubber-based product with a proven reputation for durability. Varied application techniques include ballasted, fully adhered and mechanically fastened, allowing EPDM roofing systems to be applied to virtually any roof surface.
METAL ROOFING
While expensive compared to other commercial systems, metal requires little maintenance and often lasts 50-75 years. When it comes to fire, wind and impact resistance, metal roofing stands alone. With reflective coatings applied, metal can also be used to keep utility costs low. Its recycled content, recyclability and energy efficiency qualify it as a "green" building product.
MODIFIED BITUMEN
One of the most common residential low-slope systems, modified bitumen combines hot asphalt (bitumen) with plastic and rubber additives which are layered between sheets of fiberglass or polyester. Its lifespan is determined by the number of layers installed. Modified bitumen roofing exhibits many characteristics of BUR, yet affords the versatility of a single-ply system. These membranes are resistant to heavy traffic, punctures and tears.
PVC/TPO SINGLE-PLY MEMBRANE
Thermoplastic single-ply membranes represent the fastest-growing segment of the U.S. commercial roofing market. Short for polyvinyl chloride, PVC is a sturdy, single-ply roofing membrane proven to perform well on both residential and commercial roofs. TPO, or thermoplastic polyolefin, is a newer heat-welded, single-ply roofing membrane that costs less than PVC and offers a 10-year rating. TPO reflects solar heat, making it a popular choice where energy efficiency is important. Both PVC and TPO are aesthetically pleasing, lightweight and highly resistant to wear.
WATERPROOF SILICONE ROOF COATINGS
Silicone roof coatings are applied directly to an existing roofing system; we simply apply a layer of silicone on the surface of the roof. You can still utilize your current roof surface, roof deck and insulation with a silicone coating.
When installing a silicone coating, there is no need to tear off the existing roof. At the end of the warranty period, you can apply another layer of coating to renew the warranty. This removes the hassle, expense and environmental impact of having to do a full roof tear-off.
Contact Us for a Free Quote Today
When it comes to commercial roofing, STARR Roofing & Gutters is the contractor to rely on. From new roofing to roof coatings, our professional roofing team is available to help you with all of your roofing needs. Call us today at (512) 736-6539 or fill out the online form to request a free, no-obligation quote.