Metal Roofing, Asphalt Shingles & More
STARR Roofing & Gutters has experience with all types of roofing seen around Texas, from the most popular to more unique options. If you need help choosing the right roofing material for your home, rely on us to help you weight the pros and cons and select the best material for your unique needs.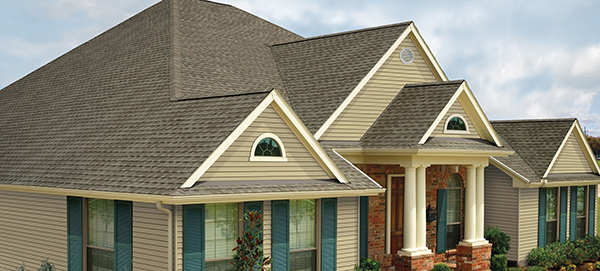 Types of Residential Roofing
Explore the different types of roofing that STARR can install for your residence!
Asphalt shingles
Metal roofing
Tile roofing
Wood shingles & shakes
Slate roofing
ASPHALT SHINGLES
Asphalt shingles cover more homes in America than any other roofing material. This roofing material is versatile and provides excellent protection. Starr offers a wide variety of asphalt shingle styles and colors that are a great option for your Texas roofing system.
What are asphalt shingles?
An asphalt shingle consists of a fiberglass or organic mat coated with asphalt, then covered with colored mineral granules for protection against the elements. Asphalt shingles are available in a range of grades. The better the grade, the longer the life expectancy, which can range from 15 to 30+ years.
Additional advantages of this roofing material include:
Versatile: Asphalt shingles come in several styles, including 3-tab shingles, laminated shingles, impact resistant- and designer shingles. The size and flexibility of shingles make it easy to adapt them to any roof size and shape.
Low-maintenance: Many roofing materials require regular maintenance in order to retain their appearance and performance. But asphalt shingles are easy to keep clean, and can quickly be repaired or replaced if they are damaged.
Aesthetically pleasing: Asphalt shingles come in a wide selection of colors and textures. Our expert roofers can help create a design that will match the architecture and décor of your home. Certain asphalt shingles can mimic the look of wood, tile or slate, giving your home an elegant finish.
METAL ROOFING
Concealed fastener metal roofs are an increasingly popular style in Central Texas. All screws and other fasteners are covered by the panel overlaps, preventing water intrusion and giving this roof type its name. Starr Roofing has extensive experience in the installation and repair of concealed fastener roofing systems. Durable and built to last, these roofs come in a variety of colors and profiles.
Additional advantages of metal roofing include:
Weather-resistant: Minimal seaming and tough panels make a metal roof resistant to rain, hail, snow, ice and sun. Metal roofs are rated for high winds up to 140 miles per hour.
Durable: Metal roofs generally last 50 years or more when properly maintained. They are resistant to rust, rot and insects, and are nearly impervious to penetration.
Energy-efficient: Metal roofs are "cool roofs" since they reflect much of the sun's energy, helping to maintain a balanced temperature between the roof deck and the supporting structure. This helps you use less energy to heat and cool your home, reducing monthly utility bills.
Low-maintenance: Metal roofs require little maintenance to retain their good looks and structural integrity. Metal won't chip, fade, crack or curl.
Aesthetically pleasing: Metal roofing is available in multiple textures and an impressive array of colors.
In addition, our metal roofing systems come with extended manufacturer warranties that provide the peace of mind the comes with knowing your roof is protected while it is protecting your home and family.
CLAY OR CONCRETE TILE
Tile is among the most durable and environmentally sustainable Texas roofing choices. Most tile roofs have warranties ranging from 40-50 years, though some clay tile roofs in Europe have lasted hundreds of years. Starr is the Texas roofing contractor with extensive experience in the installation of clay and concrete tile roofs.
Other advantages of tile roofing materials include:
Superior durability & long service life
Low maintenance requirements & lifecycle cost
Wide choice of colors & patterns
Excellent insulating properties for energy savings
Fireproof with a Class-A rating
Environmentally friendly
The Difference Between Clay & Concrete Tile
Clay roof tiles are durable, strong and resistant to all weather conditions. They are baked in kilns at extremely high temperatures, which allow the tiles to retain their strength and color for up to 100 years. Clay tiles are available in an array of shapes, sizes and textures, and in many fade-free colors.
Concrete roof tiles have become a very popular choice due to their durability and lower cost. The average lifespan of concrete tiles is about 50 years, and cost is likewise about half that of clay tiles. Concrete tile is a very durable and fire-resistant roofing material, and available in a wide range of colors and designs.
WOOD SHINGLES & SHAKES
Shingles and shakes made of wood have been a preferred choice for protecting homes for hundreds of years. Today, homeowners choose wood roofing for a variety of reasons, including achieving a traditional look or a desire to use natural materials or for historic accuracy.
More advantages of wood roofing materials include:
Natural beauty
Long service life
Resistant to strong winds, impact & insects
Great insulating ability
Eco-friendly material
The Difference Between Shingles & Shakes
Many homeowners ask us about the difference between wood shingles and wood shakes. Wood shingles are sawn or cut to be uniform in size and thickness. Wood shakes are more irregular in appearance and have at least one split face. Both are usually available in varying widths, one of the features that give a wood roof its rustic appearance.
SLATE ROOFING
With its unique texture, natural tones and unmatched durability, slate is the perfect combination of practicality and beauty, and will give your home an elegant traditional look. Modern variations of slate roofing tiles are being made thinner and of lighter weight to achieve the look and feel of slate for a lower cost, and with less complicated installation requirements.
Additional advantages of a slate roof installed by Starr include:
Superior service life
High resistance to storm damage & fire
Impermeable to water, moss & algae growth
Excellent insulating properties
Resists chipping, cracking & erosion
Environmentally friendly
Available in a wide array of colors
Starr has years of experience in the specialized process of installing, maintaining and repairing slate roofs. Get in touch with us today for more information.
Contact Us for a Free Roofing Estimate
Trust STARR with all of your residential roofing installation needs. From the most popular asphalt, metal, and tile roofing to more unique wood or slate roofing, we do it all. Contact us today for your free consultation and roofing estimate. Call us at (512) 736-6539 or submit the online form to get started.