It's important to vet a residential roofing contractor before hiring them. Roofing projects are a collaboration between you and your contractor, which is why you should hire a contractor you can easily get along with.
One way of narrowing down your options is to focus your search on local contractors. What are the advantages of hiring local? STARR Roofing & Gutters shares some vetting tips and lists the advantages of hiring local in this guide.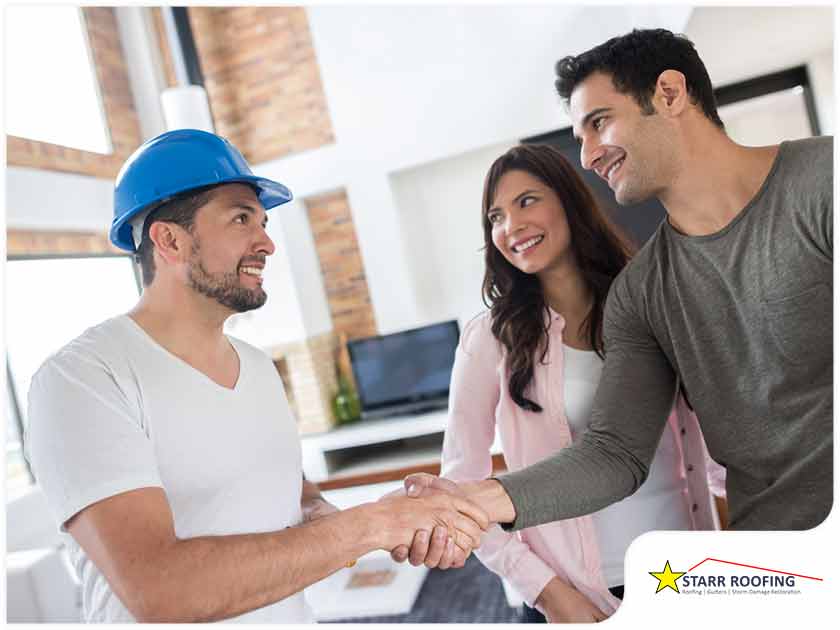 Faster Vetting
For starters, vetting local contractors takes less time than vetting out-of-state roofers. Local contractors have local references. You can ask your friends and neighbors if they've hired one of the local contractors—they most likely have hired a local roofer at least once—and if they'd recommend any of them.
Convenience
It also makes more practical sense to hire a local contractor because they're nearer to your home. In case you have a roofing emergency, local contractors can arrive and conduct roof inspections and emergency repairs quicker than roofers several towns away. The faster roofing issues are addressed, the lower the risk they might affect other parts of your home. Some local contractors, like STARR Roofing & Gutters for instance, even have dedicated emergency disaster response teams to respond to roofing emergencies faster.
Quality Workmanship and the Personal Touch
Roofing projects are essentially a collaboration between you and your contractor, so it's important to hire one you can easily get along with. Local contractors are known for their personalized service; they have a reputation to uphold in their community, after all. As such, you can expect a high level of service from a local contractor.
Familiarity with the Local Climate and Building Codes
Local contractors are more familiar with the local climate and building codes. As such, they're able to make better recommendations. For instance, local contractors would usually recommend metal roofing to homeowners living in warm climates. Exposure to heat can drastically shorten the lifespan of a roofing system, but this shouldn't be a problem for metal roofing panels, which are virtually impervious to heat-related damage. Not to mention light-colored metal roofing panels reflect heat instead of absorbing them, reducing the strain on your HVAC system.
If you're looking to improve your home's energy-efficiency, local contractors may recommend installing energy-efficient aluminum roofing systems, which have an airspace between the metal panels and the decking. This airspace prevents heat from reaching your interior and in the process reduces cooling costs by as much as 20%.
Supporting the Local Economy
Supporting local businesses helps the local economy and the community. It's estimated that 68% of every $100 spent at a locally owned business stays within the economy.
Vetting Tips
Here are some vetting tips to help you further narrow down your shortlist:
Check a contractor's online reviews – A contractor's online reviews should give you a good idea of the level of service you can expect from them. Keep in mind that a few negative reviews aren't necessarily a red flag. Miscommunication can happen even in the best circumstances, after all. What matters in these cases is the contractor's response to the complaints. Did they take the time to address online complaints? And if so, did they do so in a professional manner?
Ask how many years they've been in business – The number of years a contractor has been working in the industry should give you a good idea of their level of expertise.
Check their portfolio – Another way of gauging a contractor's level of expertise is to check their online portfolio. It's important to take note of the kinds of projects they've handled because certain roofing projects require a specific skill-set. The wider the range of services they offer, the better. For instance, given that commercial roofing systems are more vulnerable to leaks than sloped residential systems, you'd naturally want to find a contractor with experience in installing low-slope roofing systems.
Check their certifications – Certified roofing contractors have already undergone vetting by independent non-profits and manufacturers, so in a sense, they've already done all the vetting work for you.
Why Work with GAF® Master Elite™ Contractors?
GAF®, one of the most trusted names in the roofing industry, offers several levels of certification, the highest of which is the Master Elite™ certification. What are the advantages of hiring a GAF Master Elite contractor?
Superior workmanship – To receive the Master Elite certification, a contractor needs to be licensed, adequately insured, committed to ongoing professional training, and have a solid business reputation in their respective communities. The requirements are so stringent that only 2% of the roofing contractors in the country qualify.
Quality service – The superior workmanship and the quality service given by Master Elite contractors are the main reasons why an overwhelming majority of customers served by factory-certified contractors were satisfied with the service they received. In fact, a survey of more than 28,000 homeowners found that 93% of the respondents would recommend Master Elite contractors to others. As such, you can rest easy knowing that you can expect a high level of workmanship and service from a Master Elite contractor.
Exclusive warranties – One way of maximizing your returns on investment on a new residential roofing system is to get a warranty that provides stronger protection and wide coverage for your new roof. Roofing systems installed by a Master Elite contractor are eligible for a wide range of exclusive warranties. GAF's strongest warranty is the Golden Pledge® Warranty, which covers manufacturer defects and workmanship errors for 50 and 25 years respectively.
Red Flags to Watch Out For
What are the red flags you need to keep an eye out for?
Lack of a digital presence – In this day and age, there's just no excuse for not having a website.
Low roofing estimates – Gathering roofing estimates is an essential part of the budget-planning process. It might be tempting to hire the contractor with the lowest bid, but if a roofing estimate is too good to be true, then it probably is. It's not uncommon for less experienced contractors to offer low roofing estimates to get more customers. The problem is they're more likely to make installation errors. Remember: when making an investment like a new metal roofing system, you can't get too preoccupied with the costs. What you need to focus on is safeguarding and maximizing your ROIs.
Practical Questions to Ask a Contractor During a Roofing Consultation
Once you've narrowed down your shortlist to a few choices, it'd be a good idea to schedule an onsite inspection—some roofers offer free inspections—or call them to see if they'll be able to meet your needs. During your initial consultation with them, it'd be a good idea to ask them these questions:
How Long Does It Usually Take to Finish a Roofing Project?
The amount of time needed to complete roof repairs would depend on the extent of the roofing damage. As for roof replacement, it normally takes about 1 to 7 days to install a new roof. Keep in mind that before the actual project starts, the contractor will need to acquire the necessary permits. This would normally take about 2 to 4 weeks.
What are Your Contingency Plans in Case the Weather Doesn't Cooperate?
Given that the weather is becoming more unpredictable nowadays, you should ask your roofing contractor about their contingency plans in the event the weather doesn't cooperate.
Looking for professional roofers near you?
STARR Roofing & Gutters, a GAF Master Elite contractor, offers a wide range of professional roofing services, including roof inspections and replacements. To schedule an inspection, call us at (512) 736-6539 or fill out this form. Talk to us today!