A roofing project, or any home improvement project for that matter, is a collaboration between you and your residential roofing contractor. That's why clear and constant communication is key to the success of any home improvement project. If you have any questions or concerns about the progress of your project, you shouldn't hesitate to ask your contractor. There are, however, a few things your roofers wish you knew about roofing work.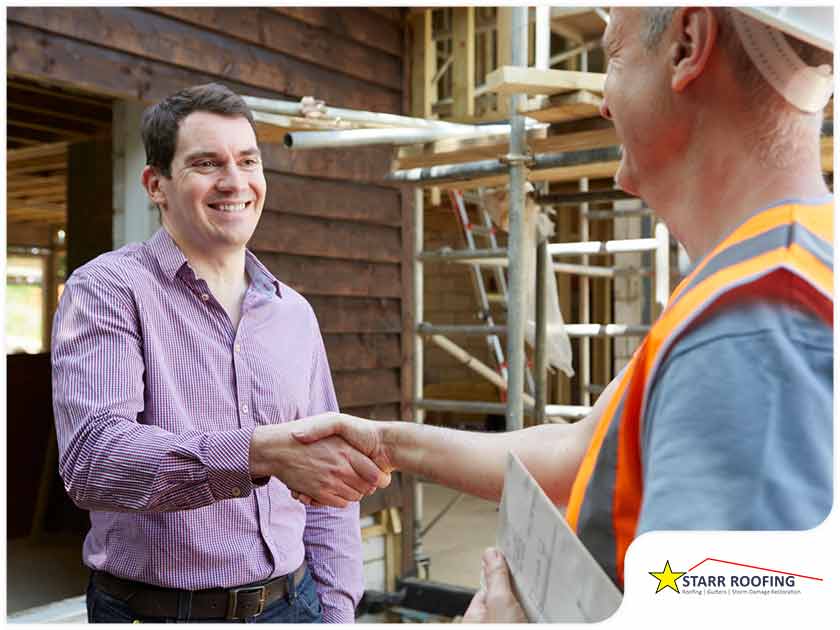 Some of these are that:
When It Comes to Roofing Materials, Quality Matters
While it's important to stay within budget, you shouldn't get too preoccupied with the costs. Focus on the value you get from investing in a high-quality roof and your potential returns on investment, not the price of the roofing materials. Remember: the durability of your residential or metal roofing system partly depends on the quality of the materials used. Since it's your home's first line of defense against the elements, it's important that your contractor only uses quality materials. Using low-quality materials for your roof will likely result in exterior damage, which can easily affect other parts of your home and cost you more in repairs in the long run. If you're not sure about the quality of certain roofing materials, it's best to stick to reputable brands such as GAF®.
Important note: The same goes for reusing roofing materials. Old roofing materials may have lost some of their durability, so it's best to stick to using new materials for your roof.
Experience and Certifications Count
It also might be tempting to hire the roofer with the lowest roofing bid. However, this is a common tactic used by less experienced or qualified roofers. To attract more customers, it's not uncommon for less qualified contractors to offer lower roofing bids. The problem with hiring less experienced contractors is that they're prone to making costly installation errors.
Remember: Always vet a prospective contractor before hiring them. What are the things you should look for in a roofing contractor?
Experience – The number of years a contractor has been in business should give you a good idea of their level of expertise.
Good online reviews – By skimming through online reviews, you'll know the level of service you can expect from a contractor. Just keep in mind that a few negative reviews aren't necessarily a red flag. In these cases, what matters is the contractor's response to online complaints. Did they take the time to respond to customers' concerns? And if they did, was it done in a professional manner? What if they don't have a website? That in itself is a red flag. In this day and age, there's just no excuse for not having a website.
Certifications – Certifications are proof a contractor has undergone training to expand their skill set. They're usually given by large manufacturers such as GAF® and Owens Corning® and independent non-profits.
Why Hire GAF® Master Elite™ Roofing Contractors
GAF® roofs installed by Master Elite™ contractors are eligible for exclusive warranties. The Golden Pledge® Warranty, GAF's strongest warranty option covers roof repairs and replacement costs caused by manufacturer defects and workmanship errors for 50 and 25 years respectively.
There's also no need to vet Master Elite contractors because GAF already did all the vetting work for you. The requirements for a Master Elite certification are so stringent that only 2% of all roofing contractors qualify. As such, you can rest easy knowing that your roof will be installed properly.
There's No Such Thing As a One-Size-Fits-All Approach
Your roof won't last long if it can't handle the local climate. When choosing a new roof, you need to take into account its suitability to your area's climate. Remember: there's no such thing as a one-size-fits-all approach in home improvement projects.
What are the most commonly used roofing materials? And which ones are suited to the hot Texas climate? Here's an overview:
Asphalt shingles – There's a reason why asphalt shingles are one of the most popular roofing materials in the country. They're light-weight, easy-to-install, cost-effective, durable, and are durable enough to handle a wide range of climates.
Metal roofing – Metal roofing panels are known for their durability. They can resist rain, hail, snow, ice and sun as well as resist fading, chalking, and cracking even under tough conditions. Metal roofing is also becoming increasingly popular in the state, thanks to its energy-efficiency. Sleek metal roofing panels reflect heat instead of absorbing it, reducing the strain on your HVAC system and lowering your cooling costs.
Slate roofing – When it comes to durability and aesthetic appeal, few come close to slate roofing. In addition to its insulative properties, it's resistant to chipping, cracking and erosion. A lot of homeowners are hesitant about installing slate roofing because of the complexity of the installation process as well as its weight (the structure of a home often needs to be reinforced to handle the additional weight load). Fortunately, modern slate roofing is easier-to-install and weigh less than traditional slate roofing.
Tile roofing – There are two types of roof tiles: clay and concrete. The former can handle a wide range of different climates while the latter is the more affordable of the two, but is just as durable.
Wooden roofing – For hundreds of years, people have been using wood to build their homes and the roofs that protect them from the elements. Wood is the preferred choice among homeowners who want to give their exterior a classic aesthetic.
To learn more about your roofing options, consult a local residential roofing contractor. Since they're familiar with the local climate and building codes, they can make better recommendations.
Routine Maintenance Is Key to Keeping Your Roof in Good Condition
Some homeowners think maintenance costs unnecessary expenses. But they often don't take into account the costs of not maintaining your roof, which would usually include the costs of several roof repairs and a roof replacement. Not to mention roofing damage can easily affect other parts of your home, increasing repair costs. Through routine roof inspections and maintenance, contractors can fix roofing issues and reinforce any weak spots.
In Certain Cases, It Makes More Financial Sense to Get a Roof Replacement
Maintenance can only do so much. At a certain point, it'll make more financial sense to replace your roof. That's because a roof becomes more prone to breakdowns as it ages. Why replace your roof when it can simply be repaired? Individually, repair costs may seem manageable, but they quickly add up.
Here's a tip: as your roof nears the end of its lifespan, it starts to suffer more breakdowns. Keeping track of its lifespan can help you plan a roof replacement ahead of time.
Here are the things that should be included in your roofing file:
Basic info about your roof – Your roofing file should include the type of roofing system installed and its dimensions.
Roofing materials – We recommend noting the brand of roofing shingles used; using the same brand in future roofing projects can help keep your roof's performance consistent.
Warranty info – Keep important documents such as your warranty in a single file, so you won't have trouble finding them if you notice any installation errors or manufacturer defects.
Roof inspection records – Records of previous roof inspections can give contractors an idea of which parts of your roof haven't been thoroughly inspected yet, helping them find roof damage faster and more efficiently.
Contractor's contact details – You never know when there will be a roofing emergency, so it'd be a good idea to store your contractor's contact details in the roofing file.
STARR Roofing & Gutters is a locally owned 3rd generation contractor with a GAF Master Elite certification. To request an estimate for your roofing project, call us at (512) 736-6539 or fill out this form.